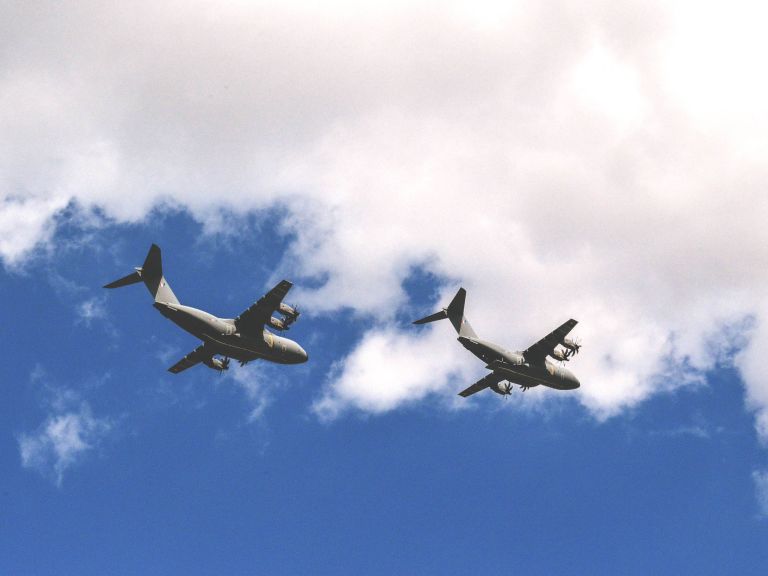 A child of a U.S. Marine who served in Vietnam, Rikki is no stranger to a life as a service member. Like many young, aspiring aviators, Rikki was hoping to one day see the world from an entirely different perspective: from space. Perhaps she was inspired by Christa McCullough, the teacher who join the Columbia crew on that shuttle's final, but ill-fated mission in 1986. But as she made her way from college ROTC to Active Duty, in the course of her training and assignments, she found herself in Germany behind the wheel of one of the Air Force's largest assets – the C-130.   Anyone living in Colorado Springs knows when a C-130 is overhead – it's the size of a large building flying in the sky – impossible to miss. Lt. Col. Heflin had found her niche in the Air Force, and never looked back.
Lt. Colonel Richelle Heflin, aka: Lt. Col. Rikki "Boom Boom" Heflin carefully rides in while her Cadet sitting to her left lands the second of two sorties for the day. It's a perfect August morning for flying on the USAFA air field and three groups are active on the tarmac and in the air:  The Wings of Blue team (parachuters), the glide team, and the single engine training sorties are all in motion. The Tower is cool and calm as daily operations and management of Air Force personnel and assets are well in hand through the morning hours.
There's a buzz in the air as you make your way through the Squadron Wing corridors, to the weather screens, and check-in area where all flyers must get through to enter the air field. There are acronyms galore and flight jargon flying off the lips of the air field staff as trainers and Cadets prepare for their morning sessions. As a lay-person, it is so cool to hear their exchanges as they confidently relay pieces of information to one another in aviator parlance. Some are coming off sorties, some going on, others in the simulators, and still others doing their pre-flight planning or suiting up for a jump.
This is her office – the air field we all drive by on I-25 to our west, and the skies of southern Colorado where she gets to work with America's Finest and help them bolt in the fundamentals of aviation and piloting. It's a serious business with little margin for error and a pre-flight process that would boggle the average mind. For Heflin, it's another day to make a strong and lasting connection with a Cadet and help them realize their otherwise, innate ability to confidently and calmly manage the nearly infinite number of scenarios that can happen while in flight. It is not lost on Heflin that these aviators are very young individual men and women who have yet to encounter any one of the innumerable variables that can occur.  She's all too aware she may need to take over on a moment's notice if it gets beyond the Cadet's ability to handle. But, she's quick to point out, the vast majority of these Cadets are very capable, and ever-hungry to learn and see their way through the challenges of becoming an Air Force pilot.
"You're coming in at 85 knots on approach for landing and there are things I know I would have done by now to make my landing smoother. I can see it's getting away from the Cadet pilot, so now I have this very short window of time to where I can allow them to recognize the situation and figure it out on their own to where I need to coach them through the next maneuvers. And in very rare occasions, where I would need to take over. The point here is, it's so rewarding to see them work their way through all the math and aeronautical training, and develop their ability to interpret the situation and data, all while developing intuition and "feel" for flying a live aircraft. And then to see it come together in a matter of a few seconds to where they experience themselves handling the scenario successfully – it's pretty impressive how the training kicks in."
That's quite the high-wire she walks as a mother of three children still at home. But it's clear from Lt. Colonel Heflin, this risk is one you accept as an aviator who loves what they do. And she does.