In my 25+ years in the mortgage industry, I've partnered with over 3,500 clients and real estate agentsto create customized mortgage solutions to fit each individualizedportfolio in every economic situation.
Once you have established your own long-term wealthstrategy, it may be time to consider options to help your children build their own path to prosperity. With the proper research and education, real estate can be a powerful tool for creating wealth.
Millennials right now are receiving mixed messages regarding the value real estate plays in investment portfolios. They may have heard that it's better to rent right now thanto own a home due to current market conditions and inventory. However, it's important to understand real estate methodology before deciding on the right path.
According to Ken Johnson, co-author of BH&J National Price-To-Rent Index, "One of the difficulties with the rent and reinvest model is many people…simply rent and spend the difference…That's wealth destroying."
In other words, the only way renting succeeds as a better investment than owning real estate is when you take ALL the funds you would apply to owning a home (mortgage payment, taxes, insurance, maintenance, etc.) and invest it in a successful investment portfolio.
On average, homeownership tends to win as a wealth builder due to more reliable returns. Statistically, there is a significant different between the net worth of the average homeowner vs. the average renter. According to the Federal Reserve, the average homeowner has 40x greater wealth than a typical renter as you can see from the chart below.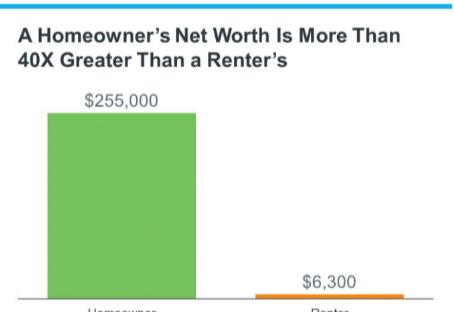 Whether your children are considering buying their firsthome or looking for another property to add to an investment portfolio, it's important to research:
Local Trends
Is the property located in a buyer's or a seller's market?
What is the average listing time for properties in the area?
What is the current price per square foot for the property being considered?
Market Conditions
Where are mortgage rates?
Are there any down payment assistance programs available? 
What is the cost of waiting?
Different Types of Real Estate Investments
What type of property works best for your child's situation?
How long do they intend to reside in that property?
Do they want to be responsible for maintaining the property themselves?
Additionally, consider your role in assisting with real estate financing in your children's portfolios. Understanding your best options for structuring financial gifts and/or co-signing as a non-occupying co- borrower will help everyone maximize their returns.
Call my office today at (719) 820-3533 to schedule a complimentary mortgage consultation so you can empower your children to embark on their own legacy plan. By integrating Guaranteed Rate's cutting edge mortgage technology platform with a well-executed plan, we will pave a successful path for your children in the years to come.